Our Story in Guatemala
It was two-and-a-half year old Martita who first captured volunteer Jeanne Nakamaru's heart on a daily one mile commute from San Pedro La Laguna to San Juan La Laguna in the back of a pick-up truck (shown in this photo). Jeanne held Martita who was thin, small for her age and unable to walk as they rode to the center where Martita attended a program for disabled children. In time, Jeanne learned that the girl, her four siblings and parents were surviving on corn tortillas with salt and drinking watered-down coffee. Jeanne bought a can of powdered milk for the family, and from those meager beginnings, the food assistance program began.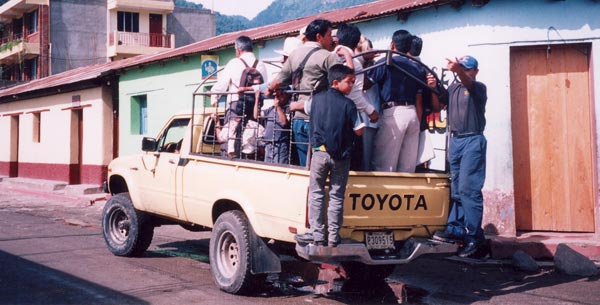 Lives from two cultures woven together
Jeanne returned to the Iowa/Illinois Quad Cities, talked about her Guatemalan experience and soon found others who wanted to help. In the years since, the Mayan people of San Juan La Laguna have woven Jeanne and her husband Bob into the fabric of their lives; the Nakamarus spend time in both San Juan La Laguna and the Quad Cities creating bridges between friends and acquaintances in the two worlds.
Collaborations and kindness
From simple beginnings, collaborations and partnerships with Unitarian Universalist congregations, HALO Guatemala (Hector Alejandro Lopez Association for the Integration of the Deaf in Guatemala), Ronald McDonald Foundation, Daniele Agostino Derossi Foundation, My School Fund, and others, along with the support of friends and family in the Quad-Cities and beyond have helped Centro Maya Project grow. In 2011, Centro Maya Project became recognized as a nonprofit corporation by the State of Iowa and under section 501(c)(3) of the tax code, and the ripples from people connecting with people continue to change lives.
Nutrition makes a difference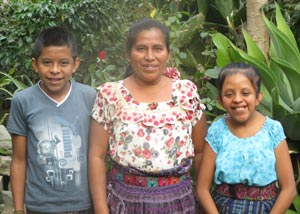 Martita has grown, too! Once she began to get adequate nutrition, her body grew, she got stronger and learned to walk. Heart surgery saved her life and, these days, she attends school. A healthy and happy Martita is shown with her brother, Marco, and mother, Juana. Juana makes crocheted and beaded purses, and Martita helps her family survive by selling these along the tourist trail in San Pedro La Laguna.
Bringing hope
Martita is just one example of the daily struggle with extreme poverty evidenced by malnutrition and illness seen among Mayan families living along the shores of Lake Atitlán.
Centro Maya Project provides hope with humanitarian, educational, and medical assistance. It focuses primarily on helping families with disabled children, single mothers, grandparents raising grandchildren and assisting with emergency medical care. The project, based on respectful relationships, has incubated friendships and deepened connections despite boundaries of language, culture and national borders. Volunteers in San Juan La Laguna – Benedicto Mardoqueo Ixtamer Peréz and his wife Maria Cholotio Hernandez – generously give time and energy to facilitate all aspects of the project.
Lucia Tzaj Yotz is employed as program assistant for the hearing aid program.
Stories
Read more about how Centro Maya Project supports the dignity of work, helps families eat, provides life-changing hearing aids, connects people with life-saving health care, and enables children to attend school.