Supporting the Dignity of Work
Meet: Pascual, a microloan success!
Bee attack destroys business: Pascual makes a living by transporting firewood and goods up and down the local mountains using his horse. One day, while delivering two sacks of manure, Pascual and his horse were attacked by a hive of bees attracted to the manure. The bees flew up the nose of the horse and stung every part of its body. Stung dozens of times himself, Pascual could not get the bees away from the horse, and the horse died from a reaction to the stings. Pascual was found unconscious by nearby workers. Though he was in a coma for a week, he survived, but worried about how he was going to support his family without a pack animal.
Loans at 30% interest: A local bank was willing to give a loan for another horse, but the interest was so high (30% is typical for small loans in Guatemala) that it would be difficult for Pascual to ever pay off the loan. Pascual approached Centro Maya Project and asked for a loan of $200. He found a horse, trained it little by little to carry loads and is on schedule to repay his loan – without interest.  In addition to carrying loads, he has expanded his business to provide rides for tourists.
Business and medical needs: Centro Maya Project awards microloans on a case by case basis to start a business, assist with medical expenses, or purchase something needed for a job. Loans are often requested for medical procedures because Guatemalans do not have health insurance and must pay for surgeries and other medical procedures up front before they are treated.
Donate: $50-$300 supports a microloan.
---
Meet: Regina!
Young friend becomes volunteer: Regina was born in San Juan La Laguna, Sololá, Guatemala. Since she was 12 years old, Regina's family has been friends with Jeanne Nakamaru, a speech pathologist and volunteer with Centro Maya Project. Perhaps influenced by learning about Jeanne's work, Regina aspired to become a speech pathologist as well. When Jeanne needed an interpreter who spoke both Spanish and Tz'tutjil (one of the Mayan languages spoken in the region) for the hearing aid program, Regina was the perfect choice, and she was happy to volunteer.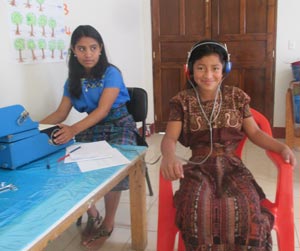 Volunteer becomes paid staff: After three years of volunteering, her interest in being of even more service to the hearing-impaired led to further training and employment. Since August, 2015, she works as a year-round assistant with the hearing aid program, serving new clients and following up with hearing aid recipients. She administers audiometric tests, makes ear mold impressions, uses software to program hearing aids, cleans and does simple repairs on hearing aids and follows up with hearing aid recipients.
Helping support her family: Regina now has a profession, which she loves, and is the only person with an audiometer in the Atitlán area in the highlands of Guatemala. She works 25 hours a week earning $2,255 annually which allows her to help her mother support their family.
Valuable assistance from our partners: Centro Maya Project is grateful to the Daniele Agostino Derossi Foundation for a grant that funds the assistant position. Centro Maya Project is grateful to Chick Clemens of Gordon Stowe & Associates for assistance with equipment and maintenance. Read more about recipients of hearing aids.
Donate: Contact us to learn more about donating a serviceable used hearing aid.
---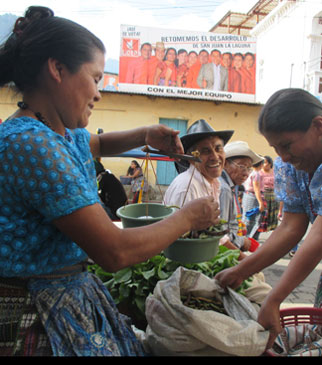 A new approach to community gardening: Tomasa and Pascual had been gardening in the Centro Maya Project community garden in San Juan La Laguna, Sololá, Guatemala, for seven years. In 2014, when the focus of the garden shifted, they took over as managing gardeners of the entire food garden. Once Tomasa and Pascual decide what to plant, they travel with volunteers to purchase seeds, and Pascual buys organic fertilizer, including horse manure.
Fresh, local vegetables: ln a climate where intensive year-round planting and harvesting is possible, they plant two or three crops at a time focusing, for example, on onions and radishes or beans and beets. At harvest time, the vegetables are distributed through the food assistance program of Centro Maya Project. Tomasa and Pascual sell extras in the market or door to door.
Benefits for Tomasa and Pascual: The garden provides most of the food for the couple and their three daughters and garners them business experience as well as a percentage of the garden's profits. Tomasa's new take-charge attitude has made the garden a success, earned her more respect from her mother-in-law who lives next door and enabled the family to finance higher education for their middle daughter, Julia, who travels out of town to study to become a preschool teacher.
Benefits for the larger community: Tomasa and Pascual are both providers and recipients of food assistance. Their efforts make local, organically-grown food available to other indigenous Mayan residents. Read more about the food assistance program.
Donate:
$100 purchases seeds and fertilizer for one growing season.